Local. Simple. Better.
Sunshine Coast and Hinterland LP gas supplies and delivery for Home & Business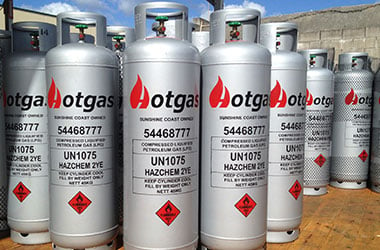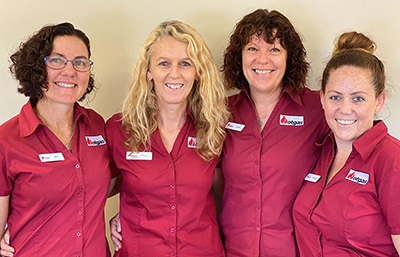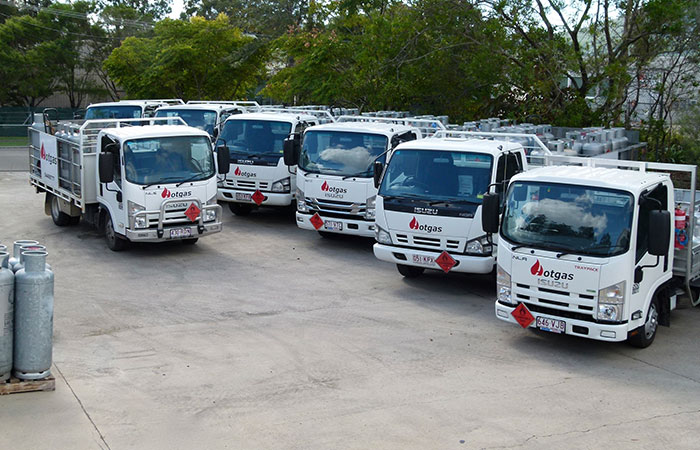 Hotgas Delivers LP Gas
Hotgas delivers LPG for home and business, in 45kg, 13.5kg, 8.5kg BBQ and 15kg forklift cylinders. We deliver to most areas of the Sunshine Coast, Blackall Range, Mary Valley and now Gympie regions. As a local business, Hotgas has been doing this for more than 30 years, so we know how to do it better than the others. It's called The Red Hot Difference!
Local.
Sunshine Coast's Own LPG suppliers
Hotgas is the premiere Sunshine Coast family owned and operated LPG supplier. Commencing as Red-E-Gas and now trading as Hotgas, for more than 30 years we have taken pride in providing personal, friendly and efficient service to thousands of Sunshine Coast locals. That's a proven record!
Simple.
Keeping It Simple
At Hotgas we like to keep things simple. We don't have account numbers, so we get to know you by name. We don't have a call centre, so we can meet your needs quickly and personally. You order gas for your house, business or forklift and we deliver it quickly, reliably and safely. How simple is that?
Better.
We do it better than the others
We believe our customers deserve the best:
quality (AAA) LPG at competitive prices
free, reliable and timely

 

delivery

excellent customer service from our friendly and helpful staff
every customer is important – every customer is an individual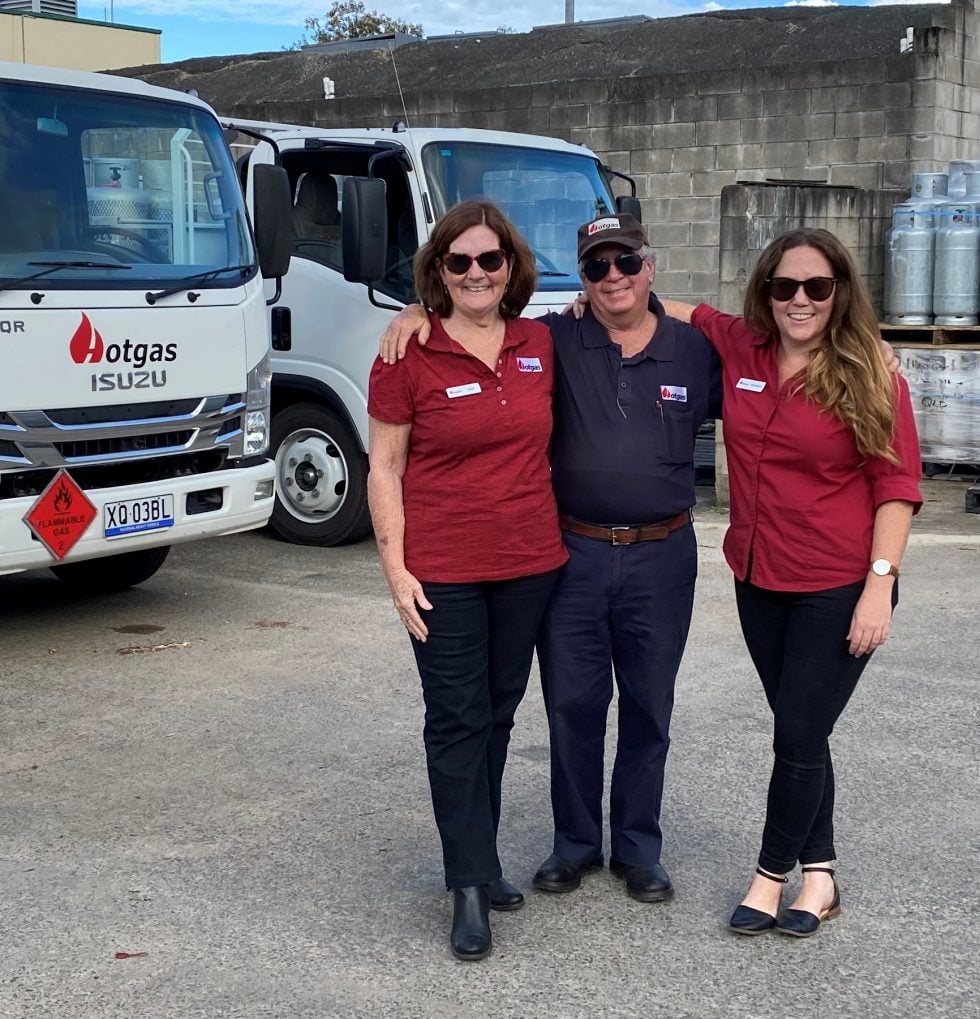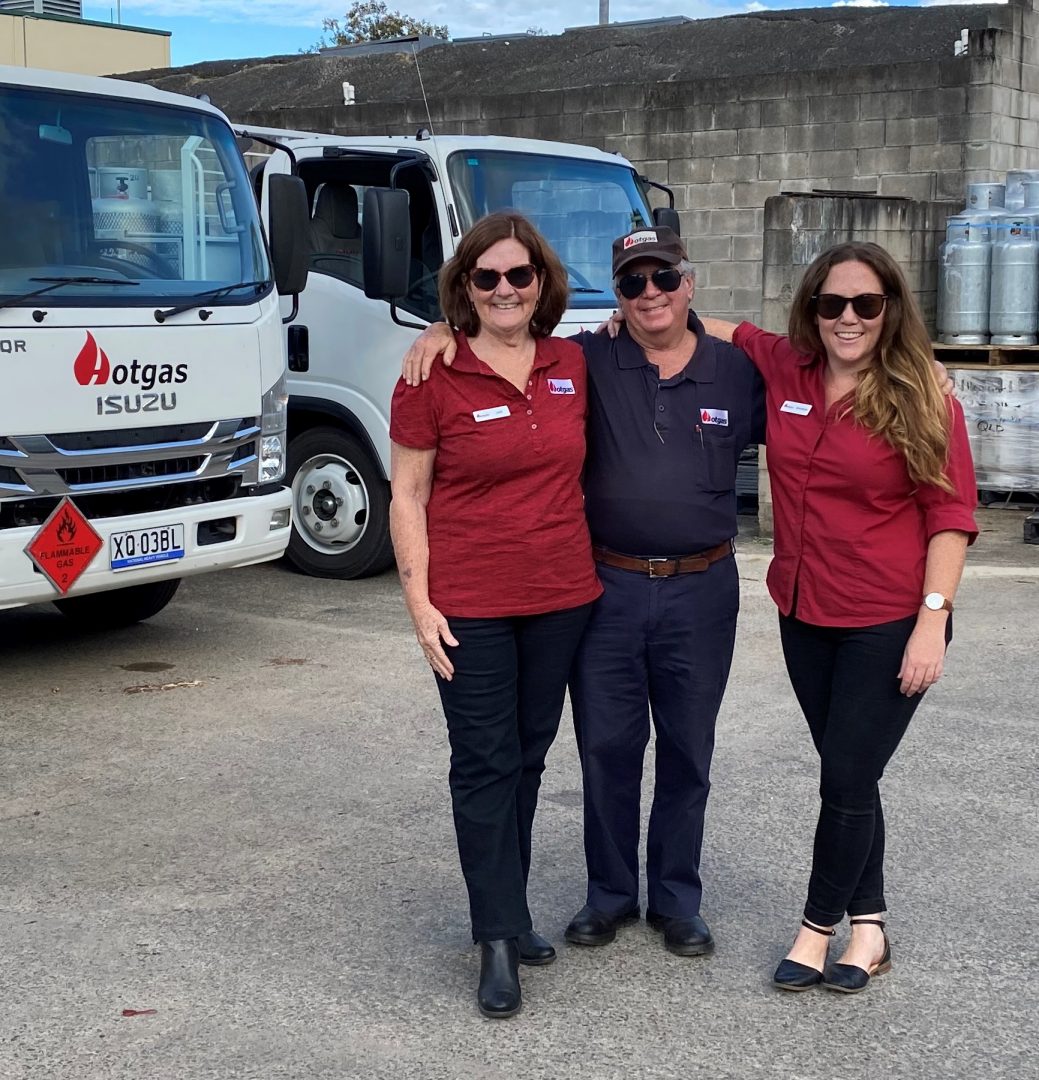 A message from John & Jan Arnold
Our values reflect our local Sunshine Coast culture (not a national or international one). Our focus is to ensure your Hotgas experience delivers a personal, friendly, efficient, and timely service – and of course, a cylinder of gas too at a competitive price!
Would like to thank you all for you friendly and prompt service.
Also would like to put in a special mention to Matthew the delivery driver who is always very friendly and helpful
The staff at Hotgas has provided an excellent service to us over the last 20+ years. You are always courteous, efficient and friendly and we really appreciate that.
I also wanted to say that the man (unsure of his name) was really honest to not install a new bottle. He could have easily replaced the half bottle but didn't. As a household we want to say a massive thank you as honesty in business/sales these days is hard to come by. Thank you so much and please let him know we are very grateful and he is a great employee 🙂
What an amazing service you guys offer! Much appreciated – & sooo easy. Thankyou
Superb service as always from Hotgas. Special thanks to Kelly & Paul for quickly delivering new gas bottles when I ran out. The best service always.
Thank you for your fast, easy wonderful service as always. My son who was home when the gas was delivered commented on how nice the delivery person was. Just thought I'd pass it on.
I want to thank you all for your continuous professionalism, awesome service and very prompt delivery. To be able to order late Friday afternoon and have our gas delivered Monday is outstanding!!
Thanks again 😀
Thank you so much for your fantastic service by organising gas to be delivered Monday of this week.
I had left a message over the weekend that I had run out of gas (forgot to order it – oops). I realised that Tuesday was my normal delivery day and was so impressed that you organised a delivery for me on the Monday, it was so appreciated.
I would also like to compliment all your staff, in particular your delivery people, always very friendly and smiling regardless of how hot it can be at times. Thanks again…
I would like to take this opportunity to thank you for your friendly, efficient and professional service over the few years.  It has been a pleasure doing business with and supporting a great local company and shall certainly be leaving a recommendation of your services
Rob just swapped over 2 cylinders as we had run out of gas in both. Wanted to let you know that the service I received from Kelli was excellent – prompt, efficient and pleasant. Rob I have met each delivery for the past year and a bit – what an asset for Hotgas. Thanks
Thank you so much for the quick delivery of our gas bottles today – 10/10 service!
Thank you so much for such prompt service – the entire experience was seamless and some of the best customer service I have experienced in a long time.
…The service you folks have given me is totally excellent. Guess it helps to deal with real people. Thanks for your efforts.
Thank you for the excellent service you've provided over the past three years – you've been a pleasure to deal with.
It is just over 11 years since my first delivery of Gas and your Company has served me meticulously. Always nice to speak to your office when ordering Gas. The cost of the Gas is good and the delivery always perfect. I would never ever think of ordering the gas I require from anybody else. Top marks. After a shocking year… you have managed very well to keep up your great service.
What an awesome business…..staff are great from office girls to delivery man………make everything so easy, thank you
Hotgas is probably the best supply company we have dealt with over many years. The staff and service are second to none. We have never had any problems. They make life easy! Thank you Hotgas
I just wanted to take the opportunity to thank you all for a truly exceptional service.
From the friendly ladies that helped me with ordering gas over the phone last week/yesterday (and changing my account details twice because I couldn't make up my mind) to the awesome gentlemen that delivered the gas bottles yesterday who is always helpful and happy to have a chat.
Such a polite, friendly and prompt service! If only all businesses and service providers could take a page out of your book … Awesome stuff.
Thanks again!
When my previous LPG supplier failed to deliver and my gas ran out, it was Hotgas who came to my rescue the next day. I have been with Hotgas since. I have found the service excellent: I have never been left short of gas and to my great surprise they turned out to be considerably cheaper. I would recommend them to any one and everyone. Thank you Hotgas.
I would just like to thank the team at Hotgas for their good old fashion service, quick response to my issue.I would 100% recommend Hotgas to my friends.
To Hotgas, I would like to commend you on your staff. Everyone we have spoken to so far on the phone, such as Tanya and Kelly, have been friendly and helpful. They go Above and beyond. They have made it an absolute pleasure to deal with Hotgas.
And the piece de resistance was when Jim came to our home to swap our gas bottles.  He is such a lovely man!! He was honest and told us that we still had gas left and he was happy to just swap the one bottle and we could have a credit for when we want to change the other bottle at a later date.  I then asked him about installing hot water for our home.  Jim was very informative and offered suggestions and explained so much to us.
We will definitely be getting our gas from you Again and I will be telling everyone and recommending you because you provide a friendly and wonderful professional service!
Congratulation on hiring such wonderful people! Thank you so much
The professional, efficient and friendly customer service at Hotgas Yandina is greatly appreciated.  We love that you can ring the Hotgas number any time and place an order for the next delivery day. The payment process is streamlined, making it convenient.  We switched to Hotgas around 20 years ago and are so happy with the service.  It's a pleasure to recommend this company.
Thank you SO much for coming our rescue this morning!
You guys are amazing and nothing is ever to much trouble, especially when the chef switches the bottles over and forgets to put an order in.
I can't tell how much it means to have such a supportive local business helping other local businesses.
I always recommend you to anyone that wants gas, and this just reinforces it for me!
I just want to say a big grateful thank you for taking my call early in the morning and sending someone out within the hour.  What a surprise it was to see the Hotgas truck pull up when I thought I would be without for days!
The wonderful man who delivered the gas was so friendly and helpful and let me know that, in fact, I did still have gas in the cylinder (I thought so but nothing was working for me) and explained to me what had happened and how to fix it.  He was very kind.
You don't get service like this all the time so I wanted to say thank you.  I've always been happy with Hotgas and today topped it all off.
To the team at Hotgas
A special mention to Melissa. A huge thank you for your efforts to deliver us gas at such short notice. Your company really CARES for your customers and it shows.
Paul, who delivered to us today was an absolute delight, and obviously a valued team member too.
Thank you AGAIN Hotgas. Best Service EVER on the Sunshine Coast!!
We have been dealing with Hotgas for nearly 20 years now and have always found them to be courteous, friendly and give great customer service. John has always been understanding of our needs and ready to support us in every way possible. Melissa always answers the phone happy and with a great attitude. A great team to do business with!
The office girls at Hotgas are very friendly, efficient and have a great sense of humour, always ready to help.
My deliveries are always prompt, even Des is an alright bloke.
Hotgas provides me with a specialist service as the access to my gas installation is difficult.
We have been working with Hotgas for the past 10 years and have always been extremely happy with their service, office & drivers.
Our family business services the local community with their real estate, property management, body corporate & holiday property needs.
Hotgas have assisted us within all areas of our company. We have always found them to be true professionals in all aspects of their business, they are very dedicated, trustworthy and have become an asset to us.
We have no doubt in recommending Hotgas for any of the services they offer as they have always gone the extra mile for us!
I have been dealing with Hotgas for the last 4.5 years – what a pleasure.
Their personal manner and professionalism and reliability make them an absolute pleasure to deal with. I often forget to order gas bottles until the last minute and the staff always accommodate our needs. Thank you.
Congratulations Hotgas!
We have been very satisfied with the service delivered by Hotgas over the past four years. We always are treated like valued and known customers.
We really appreciate the personal contact with friendly real people [not machines].
From the initial ordering conversation to the actual delivery, it is so easy and hassle free. Congratulations on your twenty year success.