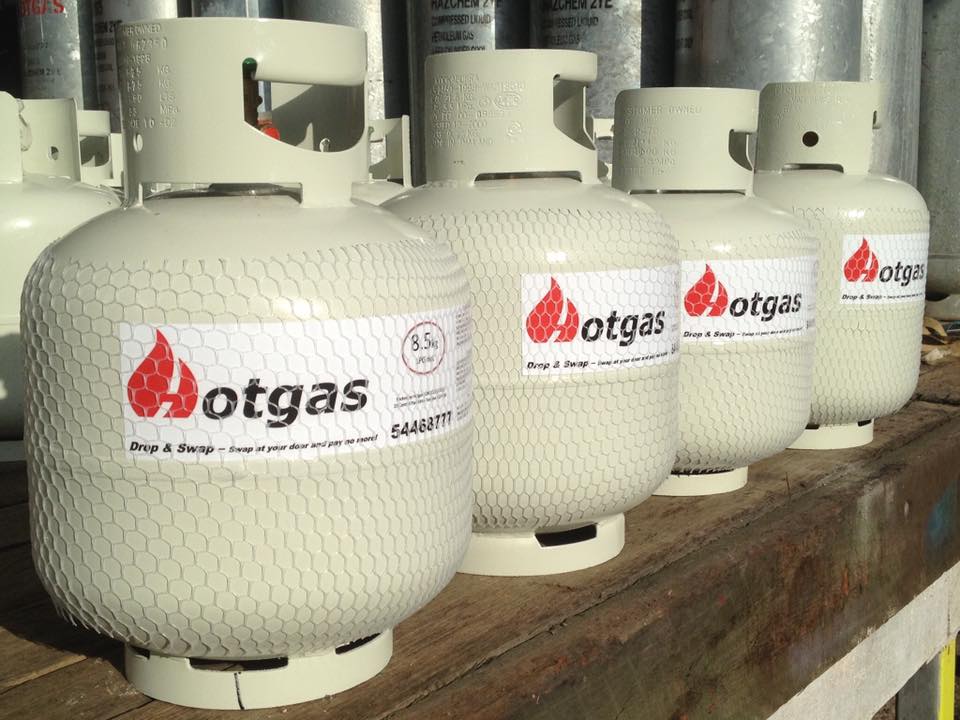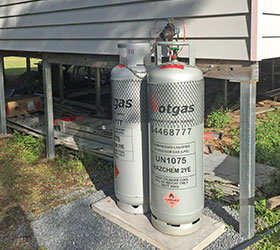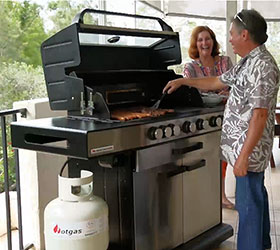 Using LPG cylinders
Ensure that fixed LPG installations are carried out and serviced by a licensed gas fitter. This includes work in premises, on caravans and boats.
Shut off cylinder valve (anti-clock wise) before disconnecting cylinder from the appliance. When replacing an empty cylinder, make sure the appliances are turned off.
Cylinder valves should always be turned fully on, never half way
Do not connect or disconnect cylinders in the vicinity of a naked flame. Always keep cylinders cool and away from flames, sparks and heat.
Cylinders used for household purposes must not be filled with automotive LPG (autogas).
Ensure there is adequate ventilation when using LPG – do not seal doors, windows or tents for extra warmth while a gas appliance is being operated.
Do not use unflued LPG appliances under any circumstances in bedrooms, bathrooms or sleeping annexes
Do not use LPG cooking appliances or stoves as room heaters.
Do not use LPG outdoor appliances in windy conditions ie more than 10km per hour.
Do not use undue force to open or close the main cylinder valve. If in doubt, give Hotgas a call.
When operating your gas cylinder, always read the manufacturer's operating instructions.
Do not make up temporary hose connections. Only suitable flexible hoses designed for LPG should be used for LPG appliances. Keep hose gently curved to eliminate kinks and damage.
Storing LPG cylinders
Always store LPG cylinders upright outdoors in a well ventilated position. If a cylinder is stored on its side LPG liquid may escape.
Cylinders should be kept away from heat or direct sunlight.
Do not store or use petrol, flammable liquids or aerosols near LPG cylinders.
Ensure valves are turned off firmly when not in use, and "screw-in" plastic plugs are fitted to the valve outlet of all LPG cylinders not in use, improving storage safety.
Maintaining LPG cylinders
Keep LP Gas appliances and fittings in good condition. Make sure they are checked regularly for any deterioration, including corrosion, dents or minor leaks.
All LPG cylinders are required by law to be tested every 10 years by an approved cylinder testing station. Hotgas is an approved testing station.
Never tamper with the safety valve or other gas cylinder fittings.
Transporting LPG cylinders
Keep cylinders secure and upright at all times during transport. Large 45kg cylinders can only be transported in a truck or utility.
No more than two cylinders should be carried in a car at any one time, preferably in the boot.
Do not leave LPG cylinders in a vehicle unnecessarily.
LPG installations in caravans, recreational vehicles and boats must comply with the Australian Standards. Cylinder compartments must be sealed from the interior of vehicles /boats and vented to the outside. Cylinder valves must be closed when in transit. Never use any gas appliance, including a refrigerator, in a moving vehicle.
Turn off every LPG appliance in caravans/ boats before petrol refuelling.